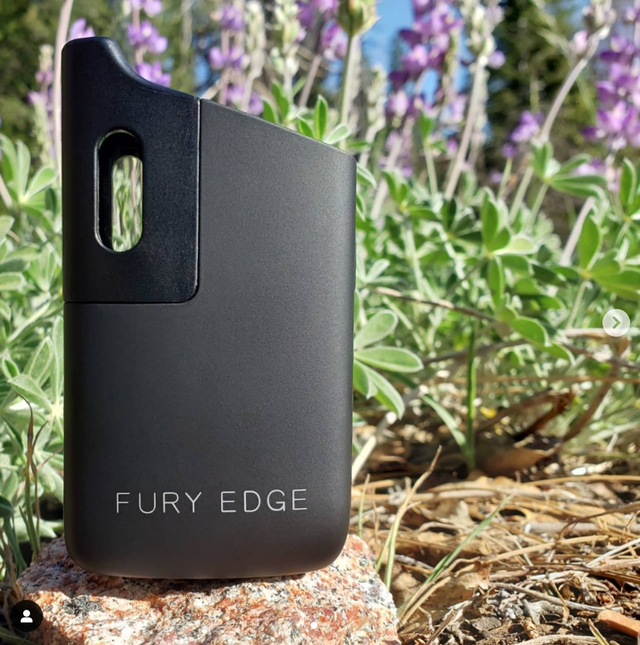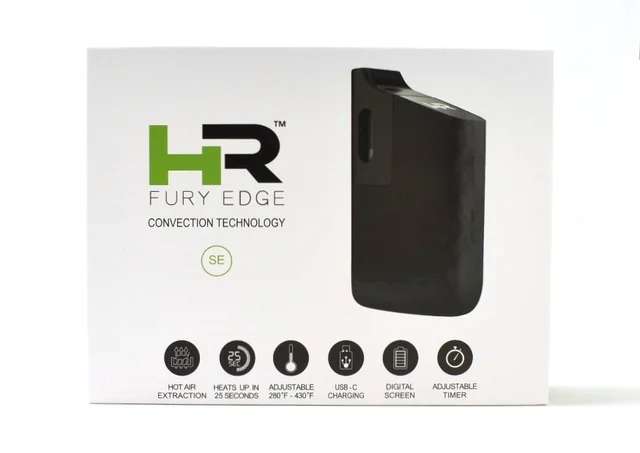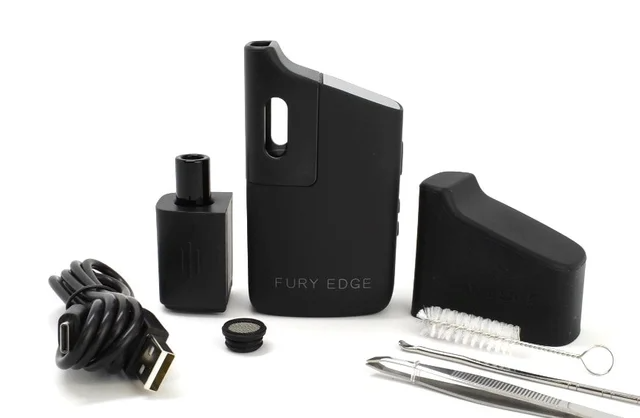 FURY EDGE SE (Slide Edition) Features:
Newly Designed Sliding Standard Mouthpiece
Newly Designed Sliding Travel Mouthpiece
Adjustable Session Timer Between 3-7 Minutes
Extended Temperature Range of 280°- 430°F
1 Click Battery Check While Powered Off
Our FURY EDGE SE (Slide Edition) is small and discreet - yet as powerful as they come. Our FURY EDGE SE has a much larger 2300 mAh battery, giving you longer battery life and better performance than similar devices on the market. This device is excellent for stealthy use on the road with plenty of power for home use as well. Whether you take short or long draws - this little beast delivers! The Convection Technology of the FURY EDGE SE combines full hot air convection heating with a slight amount of radiant heat giving you massive vapor production from the very first draw. This unique Convection Technology gives you extremely even extraction without ever needing to stir your material.  The FURY EDGE SE has a solid alloy unibody - and the isolated stainless steel & glass vapor path is ​100% food-grade for your health and safety. 
Features:

Convection Heating Technology

OLED Digital Flip Screen

Vibration Notifications

3 Clicks On/Off

1 Click Battery Check

Temperature Range 280°- 430°F

Precision Temperature Control

Adjustable 3-7 Minute Session Timer

​

Large 2300 mAh Battery 

Alloy Unibody​

Glass Vapor Path

​Protective 'Smell' Cover ​

Mesh Stainless Steel Screen

Standard Mouthpiece (secures glass accessories)

​

​Specifications:

Size: 90.5 x 51.8 x 27.4mm (3.5" x 2" x 1") 

Weight: 5.6 Ounces​

11mm Chamber Capacity of .175g - .205g

Low Draw Resistance

20 Second Heat-Up Time (almost on-demand vapor)

Isolated Air Path - Food Grade Stainless Steel

Food Grade Stainless Steel Chamber

Stainless Steel Heating Coil

​USB-C Fast Charging (5V/2A)




Charges in 75 - 90 Minutes




Class A 2300 mAh Lithium Polymer Battery

Provides Approximately 75-90 Minutes of Battery Use per Charge​

RoHS Certified for 100% Health and Safety

Upgraded Features From Our FURY EDGE V2:  

Newly Designed Sliding Mouthpieces (Standard & Travel)

 that Slide On and Attach with a Super Strong Neodymium Rare Earth Magnet

​

Newest Upgrades On All of Our Devices:

Adjustable Session Timer (FURY EDGE SE 3-7 Minutes)

Extended Temperature Range Between 280°- 430°F

1 Click Battery Check While Powered Off​

What's in the Box: 

1  FURY EDGE SE Device

​1  Protective 'Smell' Cover

1  Standard Mouthpiece for use with Glass Accessories

1  Travel Mouthpiece with Glass Vapor Path​

1  Glass Stem (Black) 

​1  USB-C Charging Cord

1  Extra O-Ring & Screen Set

1  Cleaning Tool

1  Cleaning Brush

1  Tweezers

1  User Manual

​

Warranties: 

     

One Year Free Replacement Warranty




Lifetime 1/2 Price Replacement Warranty




*Excludes loss, tampering, physical damage, or liquid damage