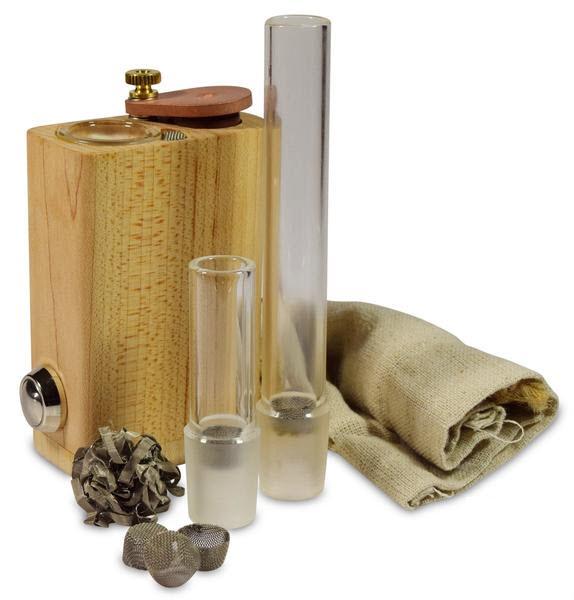 Pure convection vapor at the push of a button!
The Milaana is a true portable convection vaporizer that performs as well as well as a desktop vaporizer, and since it uses replaceable, rechargeable 18650 batteries you will never have to lose power when you want it.  The Milaana is built with standard 19/22 ground glass connections so if you like to filter your vapor you can use standard water pipes.  The Milaana is designed for trouble free operation, and comes with a 3 year warranty.
This is not your run of the mill plastic factory made import.  The Milaana is an on-demand convection vaporizer made by RastaBuddhaTao in Upstate New York.  Hand crafted with simplicity in mind from solid maple, stainless steel, medical grade glass and mica (with some functional and decorative brass and copper as well), this portable vaporizer delivers a desktop vaporizer experience in the palm of your hand.  With 45 watts of power the Milaana heats up quickly with a push of a button.  Whether you want wispy sips of flavor or hard hitting thick clouds, in 5 seconds or less you will have a smile on your face.  The vapor experience is entirely in your hands and controlled simply by the time and technique used when holding down the power button.
If you have ever felt like you wanted more out of your vaporizer - control, flavor, flexibility, or power - the Milaana has what you are looking for.  Similar to other on-demand vaporizers, there is a slight learning curve that comes with the Milaana (you control every aspect of the experience yourself without complicated electronics dictating the heating curve) but mastering the technique comes quickly and provides a strong feeling of connection to your herb.